With the Toronto Raptors selecting Malachi Flynn and Jalen Harris in the 2020 NBA Draft, their backcourt vacancies seem to have been filled. Whether Terence Davis Jr. is cut from the roster or not, there will be a plethora of options for Nick Nurse to choose from when planning his rotations for next season. Between Kyle Lowry, Matt Thomas, Norman Powell, Flynn, Harris, and hopefully Fred VanVleet, one could even look at Toronto's guard play as one of the team's biggest strengths.
As 6:00 PM Eastern Time on Friday approaches – or what most refer to as NBA free agency – Masai Ujiri, Bobby Webster, and co. will turn their attention to the voids which remain on the Raptors roster – most notably, the center position. Of course, that will be after they deal with their top priority, VanVleet.
Below, I outline five unrestricted free agents whom I think the Raptors would be able to sign on an affordable short-term deals, and also a couple of players that would require Toronto to shed some salary via a Norman Powell trade.
Jahlil Okafor
The Raptors need offensive help, and if nothing else at this point in career, offense is what Jahlil Okafor can provide. After being labelled a draft bust following some lingering injuries, the former third overall pick seems to have found some rhythm to his game in New Orleans. Despite only appearing in thirty games this past season, and only seeing the floor for an average of 15.6 minutes, he provided his team with a productive 8.1 points and 4.2 rebounds per game.
While Okafor is a null on the defensive side, which is farfetched from what the Raptors are accustomed to receiving from the centre slot, most of his woes on that end of the floor stem from a lack of effort – not a lack of ability. Standing at 6'11 with a 7'5 wingspan, and possessing a massive 270-pound frame Okafor has all of the physical tools he needs to be a solid interior defender. He's not quick off his feet, and if you ask him to defend on the perimeter you're pointing the barrel at your own foot, but he should be able to contest shots inside and defend in the low post better than he has thus far in his career. Last season, Okafor allowed opponents to shoot 60.6% while defended by him within six feet of the basket. That is above league-average percentage, and with the painted area being the only spot on the floor that you would expect defensive competence from Okafor, the aforementioned figure is unacceptable.
That being said, Nurse is a coach who will glue your butt to the end of the bench if you're not giving enough effort and energy on the defensive side of the basketball. He did it with Stanley Johnson, and he certainly won't be afraid to do it again with Okafor. With Okafor not likely to command any long-term or valuable money on the free agent market this year, and his role having evaporated in New Orleans as they will look towards Zion Williamson and Jaxson Hayes to fill their minutes at centre, the 24-year-old former All-American could be a low-risk, high-reward flyer for the Raptors.
Harry Giles
Earlier this week, Jaden Pelayo wrote about why Harry Giles is the breath of fresh air that the Toronto Raptors could use. To summarize what Pelayo details in his extraordinary piece, Giles is still only 22-years-old, is an unrestricted free agent because the Sacramento Kings made Sacramento Kings-esque mistakes, and and he possesses tremendous upside on both ends of the court.
Already a great playmaker for a big man, ranking in the 91st percentile among bigs in playmaking talent according to BBall Index, Giles could come in and provide the Raptors with another playmaker out of the high post. With new assistant coach, Chris Finch, who has plenty of potential working with talented centres such as Anthony Davis, DeMarcus Cousins, and Nikola Jokic, Giles could have the opportunity to unlock his full potential as a floor general in Toronto.
Giles was ranked the #1 high school prospect heading into his final year of high school, however after suffering an ACL tear midway through his senior season, his draft stock fell hard. Upon returning to full-health, his play didn't meet his expectations during his sole year at Duke, but he declared for the 2017 NBA Draft anyways, and was snatched up at the 20th overall pick by the Kings. Through his first two seasons in the league, Giles has struggled to find consistent minutes in the rotation, and will likely be looking for a fresh start on a new team, with a more stable organization. Though his potential as a 22-year-old athletic and skilled centre is intriguing, Giles is still unproven, and aptly won't receive any long term contract offers from anybody, other than maybe the New York Knicks.
Tristan Thompson
Tristan Thompson – though it seems like he's been in the NBA for an eternity – is still only 29-years-old, and after signing a ludicrous five-year, $82 million contract back in 2015, is finally back on the open market. While he's not a truly skilled or modern big man, he's still one of the best rebounders in the NBA, coming off a year in Cleveland where he averaged 12.1 rebounds per 36 minutes. Thompson is somewhat undersized for a centre, standing at only 6'9 and weighing 238 pounds, but that speaks to his ability to box out, and out-hustle opponents on the glass.
This past season, Thompson also began to stretch the floor a little bit, hitting nine of his 23 attempts from beyond the arc. Obviously, we're speaking of a minuscule sample size, but if Thompson can continue to develop his three-point shot, he could have real value to a contending team next year.
A couple of weeks ago, Forbes' Evan Dammerrall reported that the Toronto Raptors have expressed interest in signing Tristan Thompson, however it's unclear how much validity there is to that report, since nothing of the sort was ever echoed by The Athletic's Shams Charania, or ESPN's Adrian Wojnarowski. Subsequent reports also stated that Tristan Thompson has no interest in leaving Cleveland, and would prefer to stay as a mentor for some of the Cavaliers' young pieces. On the flip side, one has to think that if Thompson were to consider leaving, his hometown Toronto Raptors would be right at the top of his list.
If there were mutual interest, and assuming that Thompson would not be willing to sign a small one-year deal, facilitating a trade like this would probably require the Raptors to deal Norman Powell to a third team, or work out a sign-and-trade with the Cavaliers. In such a case, Cleveland would receive Powell, and Toronto would get Thompson in return. Later down the line if Thompson's contract gets in the way of the Raptors' 2021 free agent aspirations, he would probably be easy to flip at face value.
Montrezl Harrell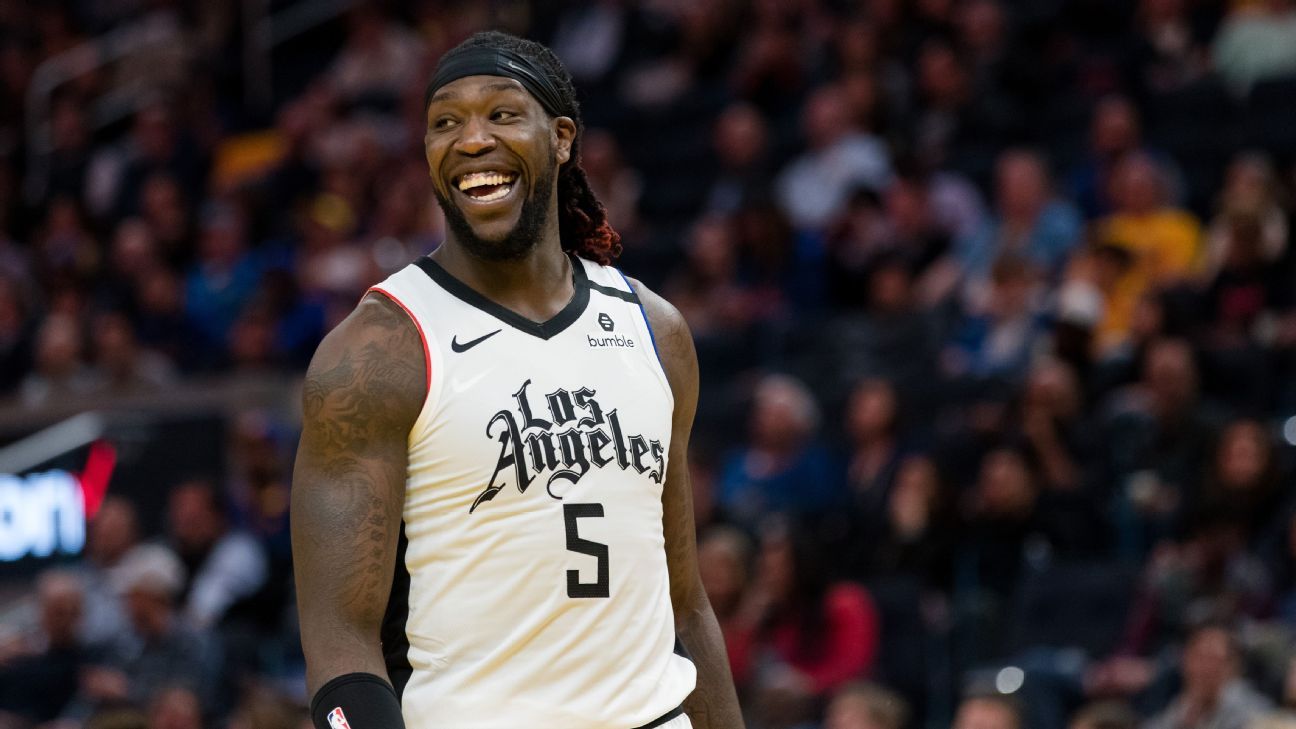 Remember the dog days of the NBA offseason when fans were overreacting to Montrezl Harrell following the Raptors on Instagram, and subsequently posting a photo of his AAU team: the "Team Trezz Raptors"? We're not exactly going to be diving into his odd online patterns, but rather his fit with the Raptors as a basketball player, and why his social media shenanigans might be an indication that the sides have some mutual interest.
Harrell is coming off the best season of his career, having averaged 18.6 points, 7.1 rebounds, and 1.7 assists, while also being named a finalist for Sixth Man of the Year. Much like Tristan Thompson, Harrell is also undersized for a centre, at only 6'9, but without any ability to stretch the floor, he's deep rooted into playing that position. Though his size doesn't affect him on the glass (again like Thompson, his hustle negates his lack of height), it does take a bit of a toll on his defense. He has a little bit of trouble holding his position in the post against bigger centres, and despite being a little bit smaller, he lacks the lateral quickness to keep up with guards on the perimeter.
Simply put, his game is not modern, which is why he will not receive anything close to a long-term lucrative contract, but the Clippers still won't be able to afford to keep him. If any hint of the rumours of him coming to the Raptors are true, that would almost certainly require Toronto to trade Norman Powell in order to free up enough room for Trez.
Serge Ibaka
Serge Ibaka is the exception of this pool of players, where the Raptors don't need to do any roster or salary cap gymnastics to keep him. All that they will have to do is convince ownership that paying the luxury tax bill is worth it to keep Ibaka in Toronto. Since the Raptors own Ibaka's bird rights, it is legal for them to go over the salary cap to retain him.
Ibaka is unquestionably the best player on this list, probably even on both sides of the basketball. On top of that, he gets an additional two gold stars for being on the 2019 championship team, and because keeping him would provide the Raptors with some much-needed continuity in an offseason where departures are virtually guaranteed.
With Serge, the Raptors know exactly what they're getting. He's a steady veteran presence, he communicates well on the defensive end, he's a great locker room guy, he leads by example, and he's probably one of the most beloved players by the fans that the Raptors have ever had.
Coming off a season in which he recorded 15.2 points and 8.2 rebounds per game, many say that Ibaka has played his way out of a contract that the Raptors could willingly afford to keep him on. Still at only 31-years-old however, it could be worth paying the tax to keep him. He can still be an integral part of the Raptors future, and by virtue of him not playing alongside Kevin Durant and Kyrie Irving in Brooklyn, you're gaining something even greater by signing him: the ability to still compete in the East. Especially with Milwaukee's trade falling through that would have netted them Bogdan Bogdanovic, and made them a force to be reckoned with, they appear to only be improving marginally by swapping Eric Bledsoe and George Hill for Jrue Holiday. If the Raptors can sign Serge Ibaka, and maybe make some trades to strengthen the back-end of their rotation, don't count them out of 2021 championship contention just yet.